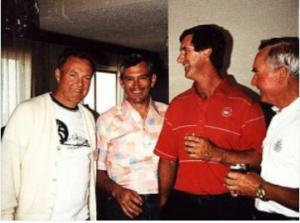 The tournament was played over 72 holes on Thursday 22, Friday 23, Monday 26 and Tuesday 27 August,1985. The courses used were Colwood, George Vale, Uplands and Glen Meadows. Golf was provided for ladies and partners at Victoria and Cedar Hill Golf Courses.
There were 343 entrants from 7 countries including Canada (120), U.S.A (161), Australia (35), Ireland (1), New Zealand (24), Taiwan (1) and England (1). There were 70 single figure golfers and 23 with a handicap of 5 or less.
A welcome Cocktail Party was held at the Crystal Gardens on Thursday night 23 August where Ken Stewart, President NALG (Canada), welcomed everyone and wished them good luck during the tournament.
Following the tournament a Awards Banquet was held at the Oak Bay Reception Centre on Tuesday evening 27 August .
The World Champion was John Fram Jnr, Canada
The Senior Champion was Bob Fortson U.S.A.