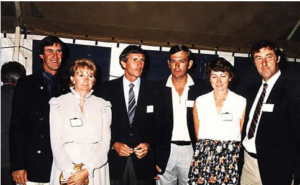 The third World Championship was held in the North Island of New Zealand at Taupo. Two courses were played Taupo Centennial Golf Club and Wairakei Golf Club. The tournament was played On Tuesday 8th, Wednesday 9th, Thursday 10th and Friday 11th February 1983. Bruce Poole President NALG (N.Z.) welcomed everyone at a cocktail party at the Wairakei Hotel on Saturday 5 February. The tournament secretary was Tom Armstrong, with Bob Harrington as Captain ably assisted by Neil Costley, Paddy Duncan, Colin Saunders, Ron Kelly and Barry Turner.
There were 194 entrants from 6 Countries Australia (58), England (1), Canada (8), Japan (2), New Zealand (108) and U.SD.A. (17). A 36 hole ladies event was conducted at the Tauhara Golf Course.
The tournament was played over 72 holes at the two courses with 36 holes at each course, on Tuesday 8, Wednesday 9, Thursday 10 and Friday 11 February 1983.
The Presentation Dinner was held at the Wairakei Hotel on Saturday night 12 February.
The World Champion was Graham Hulme, Australia.
The Senior Champion was Walter Kerse, New Zealand