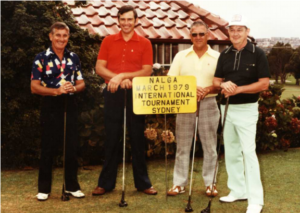 The first World Left Handed Golf Championship was held in Sydney Australia. The event was then called 'The International Tournament' . The courses used were The Lakes, Royal Sydney, Manly and Pymble. The tournament attracted entrants from USA, New Zealand and Australia and was held during the month of March 1979. The Presentation dinner was held at the Bowlers Club Sydney, where President Doug Crosby thanked everyone for attending and wished to see them at future International Tournaments.
The Tournament was organized by NALG Australia under the Chairmanship of Doug Crosby and Terry Lennox the Secretary.
The first meeting of members from different countries where discussions were held in relation to holding further International Tournaments was held in the Doug Crosby's apartment at Neutral Bay Sydney during the tournament. Present were Doug Crosby and Terry Lennox (Australia), Bo Medders and Jack Walters (U.S.A), Willard Gilmore and Miles Desharnais (Canada).
Winner was Mark Andrews, Australia.