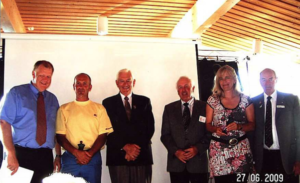 The 19th World Championship saw us travel to Sweden for our long awaited opportunity to play golf in the Baltic Region of the world. The tournament was played on the west coast of Sweden, about 2 hours north of Goteberg. The tournament headquarters was the Tanumstrand Hotel, which is about 2 km from the small village of Grebbestad.
The Welcome Cocktail Party was held on Sunday evening 21 June at the Tanumstrand Hotel, where the World President Mr. Leif Olsson, welcomed all to his Country and thanked the participating Countries for choosing Sweden to conduct the 19th World Tournament.
There were 166 entrants from 12 Countries, Australia (17), Canada (4), England (13), Finland (1), France (3), Germany (22), Ireland (8), Japan (27), New Zealand (8), Sweden (46), Switzerland (2) and U.S.A. (15).
The tournament was played over 72 holes on four very different and interesting courses, Stromstad Golf Club, Sotenas Golf Club, Fjallbacka Golf Club and Mjolkerods Golf Club.
The Award Dinner was held on Friday 25 June at the Tanumstrand Hotel.
The World Champion was Bosse Sandberg, Sweden.
The Senior Champion was Peter Read, Australia.
The Super Senior Champion was Geoff Ingram, New Zealand.
The Lady Champion was Cornelia Ulm, Germany.
The Doug Crosby World Cup was won by Sweden.